Facing Up to It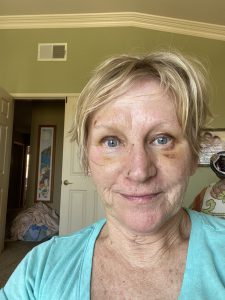 "Did you lose consciousness?" asked the ER nurse taking my blood pressure. "No, but I kind of wish I had!" was my bruised blend of sarcasm and agony.
Two hours earlier:  I was relocating river rocks from one side of the backyard to the other. I started off cautiously, shoveling a few rocks into two large plastic painter buckets. Then powerlifting a bucket in each hand, I shuffled to the other side of the yard and deposited the rocks to their new location. I was a slow motion, sweaty old milk maid.
Our wheel barrel, seemingly from the 1800's, had a flat front tire. I couldn't help thinking we must have another garden variety wagon to transport the rock filled buckets. I searched and located a dusty low lying five wheeled circular flat dolly and I was in business. Setting the bucket on the roller's round surface, just inches from the ground, I filled it to great excess, able to increase the quantity tenfold! I shuttled my payload to and fro, pleased with this clever system—bending at the waist, leaning forward and gripping the sides of the hefty rock filled bucket I was able to push this makeshift quarry to be dumped in its new territory.
Quite proud of my ingenuity, speed and efficiency until…one of the wheels caught on a slightly raised edge of cement along the racetrack, I mean garden pathway, abruptly stopping all forward motion except for the rocks, bucket and me. Gravity paired with hundreds of heavy rocks, leaning forward and my tight grip on the sides of the bucket, careened me to the unforgiving cement, face down. I am sure there is a clever scientific formula which reads…
gravity + momentum + hundreds of rocks + "I'm pretending to be a flexible, gymnastic flipping 25 year old"  = @#%$& +  bruised elbow, scraped knees, gravel cuts on the cheek + one very broken nose.
During the two weeks of bed rest, qualifying for the Quasimodo lookalike contest and having my ENT doctor pretend I was Rocky as he reset my nose, the post-injury mental baggage claim circulated and I watched each item with its individualized name tags;  Shame – Blame – Regret as they rotated on my internal conveyor belt of self assessment. Why did this happen and how could I have been so careless and yep, unaware of the risks?
The lesson hit me right in the face…literally.  I was doing too much, too fast, too many rocks in my bucket, too unaware of the possible pitfalls of a wheel getting stuck. I had not adjusted. I became too comfortable with what I thought was working and increased my load, accelerated my pace and became more invigorated with finishing than focusing on the moment. Sound familiar?
Life can get heavy and we often react quickly to manage, move and dispose of the burdens we carry. Racing around the track of life, loading more than should be pushed, we fill days up, tumbling, dulling awareness, getting scraped, bruised and perhaps broken.
This is when CHOICE is a necessary container and INTENTION a powerful vehicle. Choice means to thoughtfully assess what is the task before us, how much can we really carry and do ALL the "stones" really belong to us or could some be carried by another? Intention is the focused energy applied to the task, with consistent evaluation of how we are doing, feeling and progressing.
In reference to our late 50's, early 60's aging process, a friend recently spoke about making each step deliberate. Yuk. I used to simply leap saying "yes!" and not pausing to consider labor required. Each step, task and endeavor included spontaneity, speed and voila, accomplishment. Are you kidding, being deliberate seemed the counterpoint to "just do it!" Waiting for the CT scan to confirm if I had a concussion or brain bleed, well, let's say I faced up to a few realities.
As my recovery progressed, the swelling abated, purple tinted black eyes morphed to a jaundice yellow hue and new items came into view on my baggage claim of emotions; Gratitude – Relief – Acceptance – Deliberate.
I appreciate and value my brain; there was no head injury.  I cherish having a body that moves, swims, dances and hugs; the only break was my beak. I love to smile and laugh broadly; relieved all my teeth are still in their original spots. I deeply love this one deliberate, beautiful life and focus my intentions to face up to it every day.